What is dental plaque and how can I get rid of it?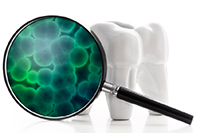 Maintaining a healthy dental hygiene requires preventing plaque buildup on your teeth. You may have heard about plaque fighting toothpastes and wondered what this toothpaste does. In this article, our specialists describe in detail what plaque is and how to remove it.


What is plaque?

Our dentists describe plaque as a thin film of bacteria that forms on the surface of your teeth. When you consume foods rich in carbohydrates and sugary substances, the bacteria present in plaque feed on these sugars and produce acids. The acids produced in turn corrode your enamel making it weak. If left unaddressed, these acid producing bacteria produce enough acid to break the enamel and spread into the inner softer parts of your teeth leading to cavities.

If plaque is not removed, it hardens into tartar which forms on the gum line causing your gums to swell and bleed easily. Tartar cannot be removed by regular brushing. If you have developed tartar, visit our offices where our specialists will remove it.


How to get rid of plaque

You can get rid of plaque by regular brushing of your teeth with a plaque fighting toothpaste. We recommend brushing at least twice a day in order to remove plaque from your teeth. Preferably, use a soft bristled toothbrush to avoid injuring your gums and brush in gentle circular motions.

You should also ensure you floss at least once a day to remove plaque from between your teeth, Regular dental floss can get between your teeth and clean each side. You may also use water floss which squirt jets of water between your teeth, cleaning them thoroughly. In addition, you should book an appointment with our practice for regular dental cleanings that ensure plaque and tartar removal.