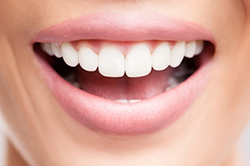 When most people think about a healthy mouth, they tend to only think about the condition of the teeth. While your teeth are a major factor, they are not the only one. The condition of your gums is just as important. Along with playing several important functional roles in your mouth, your gums also play an important part in the quality of your smile. If your gum tissue has receded, the health of your mouth and the appearance of your smile can both be significantly affected. Pacific Oral & Facial Surgery Center can help with a
gum graft
.
Effects of Gum Recession
Your gum tissue plays several important roles in your mouth. Healthy tissue sits firmly along the necks of your teeth and provides a protective seal that helps to keep bacteria and other debris away from your tooth roots and your jawbone. The gums help to protect the roots of your teeth from things that can cause sensitivity, including things that are hot, cold, acidic, salty, spicy, and more. They also aid in providing stability for your teeth. In addition to these functional roles, the gums also play a significant role in the quality of your smile. Gum recession can occur for several reasons. A common cause is gum disease. However, it can also be caused by issues such as bruxism, misaligned teeth, and aggressive brushing. When your gums do recede, more surface area of your teeth is exposed, leaving you more vulnerable to cavities. Roots can become exposed, leading to sensitivity. Your teeth can become loose and can begin to shift out of their natural alignment. Your smile also suffers, as your teeth begin to appear long. When your smile is impacted, your confidence may be as well.
What Is a Gum Graft?
A gum graft is a surgical procedure that is designed to restore a healthy gumline, reversing the effects of gum recession. This procedure, done under a local anesthetic, generally involves taking tissue from elsewhere in your mouth and suturing it in place over the recessed areas. As you heal, the tissues grow together and reform the seal around the necks of your teeth. In some cases, we may choose to use regenerative materials. A thorough consultation is performed before surgery to determine the best course of action for your specific needs.
Gum Graft Types
There are a few different types of gum grafts available. We will help to determine the best one to use based on your situation:
| | |
| --- | --- |
| • | Connective-tissue grafts. A connective-tissue graft is one that involves taking tissue from the roof of your mouth. The tissue is removed from under a small incision, leaving only a minor wound after surgery is complete. These types of grafts are usually done when your roots need coverage. |
| • | Free gingival grafts. A free gingival graft also uses tissue from the roof of your mouth. However, with this type of graft, the tissue is taken directly from the roof, leaving a larger, more open wound. These types of grafts are usually performed when harder tissue is required. |
| • | Pedicle grafts. A pedicle graft involves the use of surrounding gum tissue. Incisions are made in the gums, and the gum tissue is rearranged to cover the recessed areas of your teeth. The major benefit to this graft is that your blood vessels remain intact, allowing for faster healing. |
The Benefits of a Gum Graft
Gum grafts provide several benefits, including:
| | |
| --- | --- |
| • | Improved oral health. |
| • | Tooth sensitivity is eliminated. |
| • | The appearance of your smile is restored, giving you back your confidence. |
With a gum graft, we can help to restore the health of your mouth as well as the beauty of your smile.
Call Pacific Oral & Facial Surgery Center to schedule your consultation today at 925-290-7727.