Laser Dentistry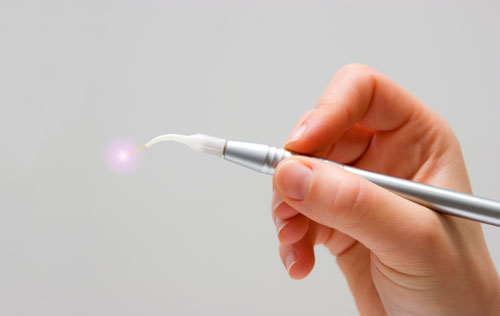 Lasers have been used in partnership with traditional dental instruments since 1990. We are excited to provide for our patients an array of laser treatments designed to speed up recovery time, improve accuracy and kill bacteria more effectively than non-laser treatments.


Types of Laser Treatments
There are many different types of treatments available to patients today that utilize laser therapy. Here are a few of the treatments that we offer:

| | |
| --- | --- |
| • | Periodontal Therapy: Gum grafting and scaling and root planning is the traditional gold standard treatment for periodontitis. At Pacific Oral & Facial Surgery Center we use a specialized laser to precisely remove infected tissue from the tooths root. Michael L. Beckley, DDS will then scrape plaque and calculus around the root. |
| • | Teeth Whitening: Laser technology has changed the game of teeth whitening. First, a bleaching gel is applied to the enamel surface of the tooth. The laser heats up and activates the bleach for quicker and more impressive results. |
| • | Root Canal Therapy: Michael L. Beckley, DDS also uses lasers to help eradicate E.coli and E.faecalis bacteria in root canal therapy. |
Other Uses
| | |
| --- | --- |
| • | Minimizes irritation from canker and cold sores |
| • | Kills bacteria |
| • | Simplifies biopsies |
| • | Expose wisdom teeth that are partially erupted |
| • | Extricates muscle attachments for better movement |
| • | Treats various infections |
Is it Safe?
Laser therapy is not dangerous and is just as safe as any other piece of dental equipment when it is used correctly by a professional. As a precaution, we will provide you with special glasses to protect your eyes. Remember, lasers have been around for nearly thirty years, and after almost three decades worth of testing, you can rest assured you will not have any unseen side effects.


Benefits
| | |
| --- | --- |
| • | Limits and sometimes eliminates the need for a drill |
| • | Patients report that laser, by contrast, is much more relaxing than the alternatives |
| • | Shown to speed up the healing process |
| • | Helps to control bleeding |
| • | Minimizes or replaces the need for anesthesia |
| • | Is more precise |
Call Us Today
Not all dentists can offer laser treatment, but the benefit it has to you is so great that we know we have to offer it.

Have more questions? Call Michael L. Beckley, DDS today.